Our medical coding audit services give you confidence that you are billing all of the services you provide. Identify and address Under coding, Over coding, Missed charges, Insufficient/Incomplete documentation. As one of the top healthcare auditing companies, RCS7 professionals follow quality review and validate patient record to reduce re-work of claim processing. We follow every payors regulations and guidelines to ensure accurate documentation that handles appropriate reimbursement.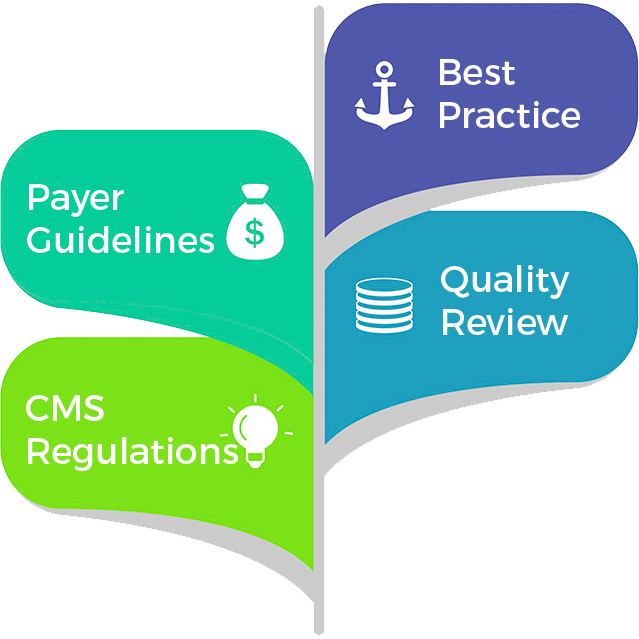 Highlights
There is too much at stake not to have trained professionals deliver a medical coding review for your organization. These codes are incredibly complex and require extensive knowledge to utilize in the proper fashion. Our medical billing and coding reviews are critical to ensure that your practice does not run the risk of aggravating patients or coming under the intense regulatory scrutiny of the government. As one of the most experienced medical billing audit companies serving the market today, we have the comprehensive understanding needed to ensure you're doing everything you're supposed to be doing when it comes to these codes.
Many practices, especially smaller ones, often don't have the time or other resources available to devote to following the guidelines as thoroughly as they should. This puts them at risk of suffering serious consequences that include lost revenues and being audited by the government. However, with comprehensive healthcare coding and compliance audits from our experts, your practice can avoid these damaging scenarios.
We use latest technologies and solutions to maximize the deliverables with quality.
- Subject matter experts review for coding improvements and quality reporting.
- Quality review to identify documentation improvement best practice.
- Follow external, regulatory and internal coding guidelines.
We've helped numerous organizations accomplish their goals with the help of our services. Click here to read some testimonials from these clients.
Quality reporting & accuracy in every documentation.
Addressing & improving challenges in documentation.
Cost effective and efficient technology implementation.